INS GIANT OF NEUROMODULATION AWARDS
The INS's 6th Giant of Neuromodulation Award will be awarded during the INS 15th World Congress.
Join us in honoring the recipients, Professor Bengt Linderoth and Professor Robert Foreman on the plenary stage on Wednesday, 25 May 2022.
The award recognizes those whose lifetime work has brought neuromodulation to the people who need it. Through their science, publications, teaching, and education they have made a lasting contribution. This is the second time that the award will go to two very worthy recipients.
During their scholarly careers, Prof. Linderoth and Prof. Foreman have developed a physiological understanding of the beneficial effects of pain treatment with spinal cord stimulation that goes far beyond the initial Gate Theory. Prof. Foreman is acknowledged for his monumental efforts in accumulating evidence for the therapy, and Prof. Linderoth for his great, often creative, work on elucidating the mechanisms of action. Through their scholarship and extensive collaboration within and outside the field, they have produced a body of impactful research that provides generations of clinicians, researchers, and engineers a deeper and more detailed understanding of chronic pain and its treatment.
Professor Bengt Linderoth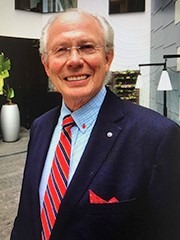 Prof. Linderoth is professor emeritus and former head of the Section of Functional Neurosurgery; and current faculty at the Department of Clinical Neuroscience, Karolinska Institutet in Stockholm, Sweden. He holds a position as adjunct professor of physiology at Oklahoma University Health Sciences Center  and Hon. Prof. at the University of Maastricht NL (2015-2017). He has spent more than 30 years in full-time clinical neurosurgical practice and is still a  part-time clinical consultant at the Karolinska Pain Center. He has been a member of the executive committee of the European Society for Stereotactic and Functional Neurosurgery; board of directors in the World Society (WSSFN) and is still a member of the editorial board of Neuromodulation, and has been editor of the Experimental Studies section in WIKISTIM since its inception. Prof. Linderoth has published more than 150 original research papers and contributed to more than 100 review articles and book chapters. His recent research interests and collaborations have spanned electrical CNS stimulation for severe pain and ischemia, "drug-enhanced SCS", DBS for Parkinson´s disease and tremor, neurocardiology, SCS for irritable bowel disease, percutaneous approaches to trigeminal neuralgia, and intracranial implantation of nerve growth factors in Alzheimer's and Parkinson's disease. This recent honor is just one of the many he has received throughout his career.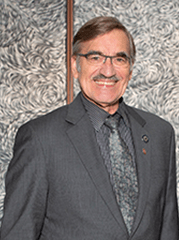 Prof. Foreman is George Lynn Cross Research Professor Emeritus in the Department of Physiology at the University of Oklahoma Health Sciences Center, where he chaired the Department of Physiology for 25 years. His research has focused on neuromodulation in animal models of visceral pain. He has published more than 230 articles in peer reviewed journals, contributed numerous book chapters and presented approximately 200 invited seminars worldwide. An early recipient of a Research Career Development Award from the National Heart, Lung, and Blood Institute, he received continuous research funding from the National Institutes of Health from 1975 to 2010. Prof. Foreman is past president of the North American Neuromodulation Society and past treasurer of the International Neuromodulation Society. In recent years, he received the Distinguished Service Award and the Lifetime Achievement Award from the North American Neuromodulation Society. He is the Associate Editor for Neuromodulation: Technology at the Neural Interface. He has also served an executive board member of the Lynn Institute in Oklahoma City, OK.